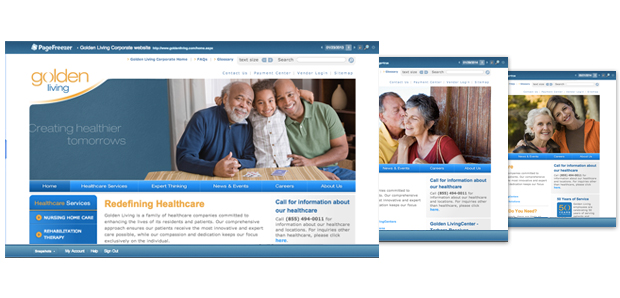 Cover compliance and litigation risks in the Healthcare Industry
The healthcare industry is highly regulated and many HMOs, hospitals and healthcare practitioners are realizing that their online content exposes them to both compliance violations and the threat of costly litigation. PageFreezer protects our clients by providing evidentiary quality archives of all of their online content including websites, blogs and social media channels.
HIPAA, the FDA and the FTC
The Health Information Portability and Accountability Act is a set of rules and regulations that govern the management of patient information in the healthcare industry. Rigorously enforced by a well-funded group of regulators, HIPAA is a force to be reckoned with. Failure to comply with HIPAA regulations can lead to crippling fines and sanctions, not to mention immeasurable damage to a company's brand and reputation. PageFreezer enables healthcare organizations to comply with HIPAA, FDA and FTC regulations as well as preparing them for the litigation and other disputes by providing evidentiary quality archives of all of their online content. PageFreezer is fully automated and browser-based, meaning that your archives are quickly and easily accessed yet still protected by cutting-edge security.
Hoewel het voor alle bedrijven belangrijk is om hun publieke communicatie te kunnen verantwoorden, geldt dit voor bedrijven in de voedings-en farma industrie wellicht nog meer. Als een bedrijf bijvoorbeeld zaken doet in Amerika, wordt men geacht zich te conformeren aan de daar geldende wet en regelgeving, zoals die van de FDA en FTC.
Bedrijven communiceren meer en meer hoofdzakelijk via Internet, het is dan belangrijk om een sluitend archief op te bouwen van alle webuitingen. En dat is precies wat wij doen!
Verantwoording:
Welke functies biedt PageFreezer uw organisatie?
Dagelijkse snapshots van uw website, alle wijzigingen worden geregistreerd
Continue archivering van sociale media kanalen: Twitter, Facebook, LinkedIn, YouTube enGoogle+
Volledig naspelen van alle webfuncties en marketingcampagnes (links, video, audio etc)
Zoekmogelijkheden op de gehele tekst
Vergelijkingsfuncties die het inspecteurs en auditors gemakkelijk maken controle's uit te voeren
Digitale handtekening en tijdstempel
Data export