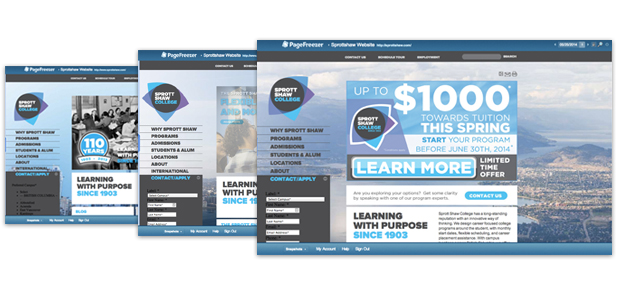 Webinformatie moet je kunnen verantwoorden
Post-secondary educational facilities are often on the cutting-edge of technology and their wide-spread use of online technologies is pervasive. However, few of these schools had taken steps to mitigate the risks associated with their web presence until social media came along. Now, presented with the volatile and unruly nature of social media content, many schools are looking at ways to manage the risks associated with websites, blogs and social media channels.
In 2010, a college in North America posted information about one of their courses to their website that turned out to be inaccurate. Students from around the world showed up to take the course, only to find out that they would not be receiving the accreditation that the website had said they would get upon completion of the course. A class-action lawsuit was filed and after two years of costly litigation, the school lost the suit and were forced to pay out a large settlement and suffered an even more costly blow to its brand and reputation. This type of error is not uncommon and the number of lawsuits involving post-secondary educational facilities is surprisingly high. Does your school have accurate records of all its online activities and content?
PageFreezer Produces Evidentiary Quality Archives
Using the latest in web-crawling and web-harvesting technologies, PageFreezer is able to capture websites accurately, securely and automatically. Our service can provide your school with complete and comprehensive archives of all of your websites, blogs, e-commerce sites and social media channels.
PageFreezer Features Ensure Data Integrity and Data Authenticity
Digital Signatures
Timestamps
Archiving Data From the Client Perspective
World-Class Data Centers
Evidentiary Quality Archives
Protecting Your School's Brand & Reputation